JFK - Attentataufdeckung
JFK - Attentataufdeckung
10.04.2019 um 19:45
melden
JFK - Attentataufdeckung
11.04.2019 um 16:07
Lila2525 schrieb:Ich habe auch einen Link gefunden im Internet, den ich ganz interessant finde.
Habe mir das Video mal stückchenweise angeschaut.
Youtube: Dallas, Ein Tag - Das Attentat auf J. F. Kennedy, ARTE Doku, volle Länge
bei ca. 44:25 heißt es:
FBI untersucht jedes der 486 Einzelbilder.

Zwei davon,
die nr. 314 und 315 ,
die den Einschlag der Kugel am Kopf des Präsidenten zeigen, verschwinden.

Sind diese Bilder wieder aufgetaucht, denn das Fehlen
fiel mir bis jetzt beim Betrachten des Zapruder-Films nicht auf ...?
melden
JFK - Attentataufdeckung
11.04.2019 um 16:20
@Lila2525
Zu den Widersprüchen von sowohl großer als auch kleiner kopfwunde gibt dieser Artikel einen guten Überblick:
https://www.history-matters.com/essays/jfkmed/How5Investigations/How5InvestigationsGotItWrong.htm
delta.m schrieb:FBI untersucht jedes der 486 Einzelbilder.

Zwei davon,
die nr. 314 und 315 ,
die den Einschlag der Kugel am Kopf des Präsidenten zeigen, verschwinden.


Sind diese Bilder wieder aufgetaucht, denn das Fehlen
fiel mir bis jetzt beim Betrachten des Zapruder-Films nicht auf ...?
Haben die Übersetzer vielleicht einen Fehler gemacht und Angaben durcheinander gebracht? 314 und 315 wurden vertauscht
In October 1964, the U.S. Government Printing Office released 26 volumes of testimony and evidence compiled by the Warren Commission. Volume 18 of the commission's hearings reproduced 158 frames from the Zapruder film in black and white. However, frames 208–211 were missing, a splice was visible in frames 207 and 212, frames 314 and 315 were switched around, and frame 284 was a repeat of 283.
Wikipedia: Zapruder_film
Frames labeled 314 and 315...are transposed...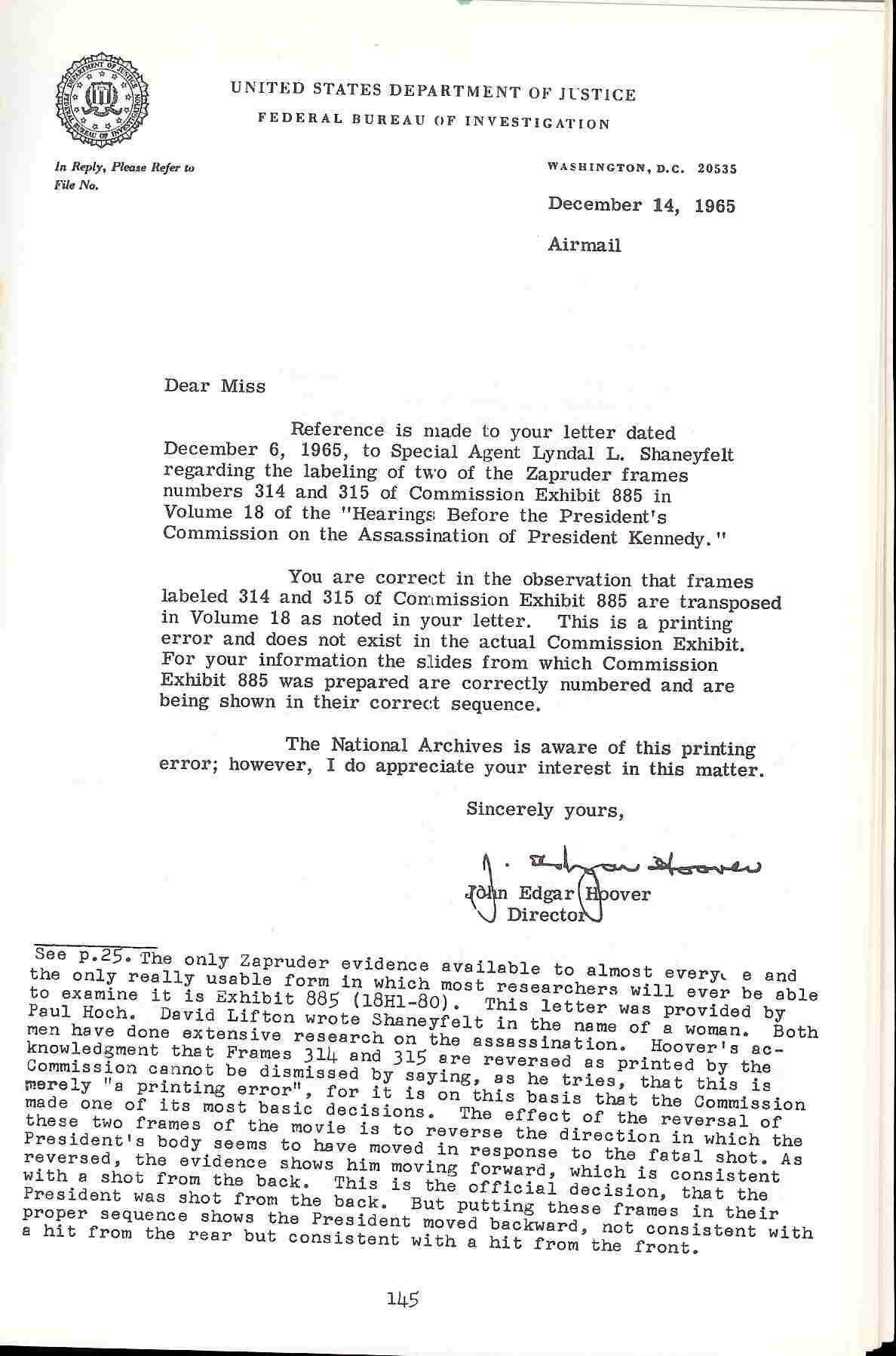 http://www.whokilledjfk.net/zapruder%20film.htm
Interessanter sind die Rekonstruktionen von FBI,USSS und Life, die krasse Anomalien in den Frame-Zahlen aufzeigen
Beitrag von proteus, Seite 1.338
melden
JFK - Attentataufdeckung
16.04.2019 um 19:10
@delta.m
@behind_eyes
@Lila2525
@Aniara
@groucho
@Africanus
@chicinho
Oswalds Verbindung zu Max Clark sind ja allseits bekannt- Clark hatte Verbindungen zu den Diensten und arbeitete für General Dynamics. Clark arbeitete dort unter I.B. Hale, der in eine Intrige gegen die Kennedys verwickelt war
https://www.allmystery.de/fcgi/?m=mposts&user=131536&query=general+dynamics
ein Mitarbeiter von GD gab an, von einem Kollegen über Oswald im Mai 1963 erfahren zu haben, mit Details wie Russlandaufenthalt und der Arbeit mit Schulbüchern in einem Lager...
http://jfkcountercoup2.blogspot.com/2019/04/general-dynamics-foreknowledge-of.html
Das Dumme ist, dass Oswald offiziell erst im Oktober die Arbeit im Schulbuchlagerhaus aufgenommen haben soll...
Neben der Intrige gegen JFK, Vorwissen über Oswalds zukünftigen Arbeitsplatz und Kontakten mit LHO ist auch interessant, dass Mitarbeiter von General Dynamics den Wunsch geäußert haben sollen, JFK zu erschießen: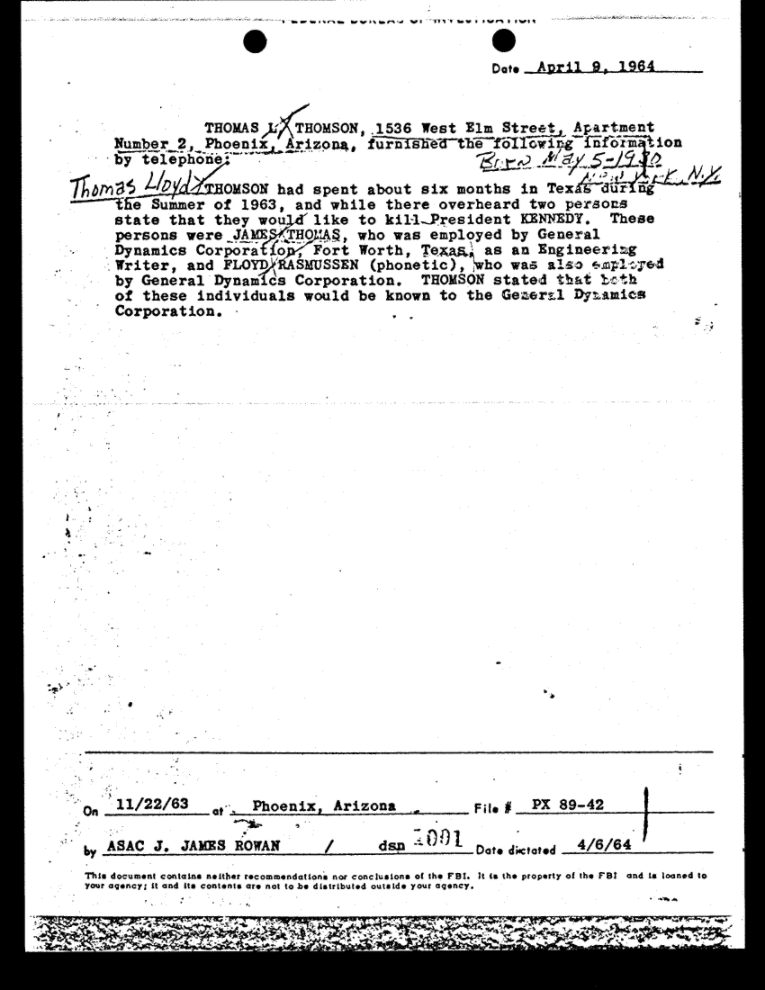 https://www.maryferrell.org/showDoc.html?docId=62468&search=Lloyd_Rasmussen#relPageId=174&tab=page
Da haben wir also LHO, der von Max Clark und Hale Jobs vermittelt bekommt, Personen die nicht nur mit den Geheimdiensten verbunden sind, sondern auch an Intrigen gegen JFK im Zusammenhang mit dem TFX-Skandal, der die Karrieren LBJs und Marinestaatssekretär Fred Korth.
https://books.google.de/books?id=Cub3CZZ5IqEC&pg=PA270&lpg=PA270&dq=tfx+scandal+lbj&source=bl&ots=oCKBjvbZqB&sig=ACfU3U0...
When he was not serving in the above public or private sector capacities, Fred Korth was a lawyer in private practice. One of his better known cases[4] was a small one heard June 24, 1948 in the County of Tarrant, Texas, when his client, Edwin A. Ekdahl, was officially divorced from Marguerite Frances Claverie Ekdahl (also known as Marguerite Oswald), whose son from a previous marriage was Lee Harvey Oswald
Wikipedia: Fred_Korth#Life_and_career
melden
JFK - Attentataufdeckung
21.04.2019 um 21:46
Ein gewisser Einfluss von General Dynamics ist auch in den offiziellen Untersuchungen zu erkennen.
Albert Ernest Jenner Jr. (June 20, 1907 – September 18, 1988) was an American lawyer and one of the name partners at the law firm of Jenner & Block. He served as assistant counsel to the Warren Commission; as a member of the U.S. National Commission on the Causes and Prevention of Violence; and as special counsel to the House Judiciary Committee during the Watergate Scandal and the impeachment process against Richard Nixon.
Wikipedia: Albert_E._Jenner_Jr
.
Federal bar news: Volume 13

Federal Bar Association - 1966 - Snippet view

In his address, Mr. Jenner stated that a series of extraordinary coincidences made it seem most likely that the assassination of President Kennedy was the work of one man — Lee Harvey Oswald. "After months of intensive research, the reading of some 40000 pages of material assembled by units of the federal government, and the questioning of scores of persons, including Oswald's wife, we came to the conclusion that there was no conspiracy, either domestic or foreign," Jenner said...
http://educationforum.ipbhost.com/topic/17239-albert-jenner-stated-that-a-series-of-extraordinary-coincidences-made-it-s...
Jenner hatte einen Interessenkonflikt- er war Anwalt und Freund Henry Crowns, der den Miteigetümer von General Dynamics war
Wikipedia: Henry_Crown
Tja, sind folgende Punkte auch nur Zufälle?
ON ECONOMICS: -- How Kennedy Assassination Affected Some Stock Prices
JONATHAN MARSHALL
Monday, November 18, 1996
....But the facts speak tellingly about how accidents of history can affect great fortunes.
A postscript for assassination buffs: No individual stood to lose more from the TFX scandal than Chicago investor Henry Crown, who owned 20 percent of General Dynamics. His personal attorney, Albert Jenner, became a senior staff attorney on the Warren Commission, in charge of investigating the possibility of a conspiracy.In later years, Jenner also represented Chicago labor racketeer Allen Dorfman. Dorfman's stepfather Paul, a leading figure in the Chicago mob, ran the Waste Handlers Union in Chicago in 1939 with Jack Ruby, Lee Harvey Oswald's future killer.
Both Dorfmans hated the Kennedy family. Robert Kennedy had hauled them before a Senate crime panel in the late 1950s, where they took the Fifth Amendment.
Allen Dorfman was murdered, gangland-style, in 1983 in the company of another friend of Ruby, Irwin Weiner. Attorney Jenner obtained Weiner's acquittal in a 1975 federal labor racketeering case after the government's leading witness was shotgunned to death.
Weiner was called to testify in 1978 before the House Select Committee on Assassinations about his relationship with Ruby, including a phone conversation with Ruby shortly before the assassination. He said the call was innocent.
The committee was investigating the theory -- which it never proved -- that organized crime had Ruby silence Oswald to disguise its own role in the Kennedy assassination.....
http://postbushera.blogspot.com/2008/12/response-to-lester-crown-role-as-king.html
In obiger Quelle sind noch viele weitere Informationen zu Verbindungen von Clark, Hale und Crown, auch zum Umfeld LBJs und RFK-Hasser Roy Cohn.
Roy Cohn:
https://www.washingtonpost.com/archive/lifestyle/1985/12/21/the-closing-arguments-of-roy-cohn/856fb2d8-c11c-40d6-bace-3b...
Die Verbindung zu General Dynamics ging noch weiter- siehe Mason Lankford
http://reopenkennedycase.forumotion.net/search?mode=searchbox&search_keywords=Mason+Lankford&show_results=posts
Lankford taucht in mehreren Zsuammenhängen zum Attentat auf:
A new person of interest has been identified. Mason Lankford was employed in security positions with General Dynamics/Convair between '48 and '72. In that capacity, Lankford provided employment verification for Roscoe White regarding his application to join the DPD. It also gives him very likely pre-assassination links to Robert Oswald, IB Hale and Max Clark. Lankford was seconded by the Secret Service to aid with security on the Fort Worth leg of JFK's Texas visit and had a close association with Mike Howard. In 1993, Lankford claimed he locked up about two dozen people for the duration of JFK's visit. Post-assassination, he was again called up by Mike Howard - this time to assist in the protection of Oswald's family. Lankford was one of the most vocal in trying to persuade the Oswald's to have Lee's body cremated. The reason given by Lankford and others was fear of the grave site being desecrated. It is however, very difficult to swallow that Lankford or other officials would care what happened to Oswald's grave, and the apparent high degree of pressure involved is indicative of ulterior motives. See board topic "Mason Lankford".
http://reopenkennedycase.forumotion.net/t35-summary-of-leads#739
Es wurde behauptet, dass Roscoe White einer der Schützen gewesen und das Körper-Double für LHO in den Hinterhoffotografien sei- das lässt sich so nicht eindeutig belegen.
Whites und Oswalds Wege kreuzten sich jedenfalls mehrere Male
In August-September 1957 Roscoe, also a Marine, took the same boat to Japan as Lee Harvey Oswald. Contrary to the claims of amateur sleuths Gary Mack and David Perry of Dallas, the connections between the two did not end there. In November of the same year, both White and Oswald ended up in Subic Bay, the Philippines, and, later, off the coast of Indonesia as part of a secret CIA invasion force planned for that island nation. Roscoe White wrote of the matter to his wife Geneva, in letters that survive, complete with their naval-vessel postmarks. Oswald talked with Priscilla McMillan about the incident, as she testified to Warren investigators. The "maneuvers" were protracted; the Marines did not return to their original assignments for several months.
https://spartacus-educational.com/JFKwhiteR.htm
Mehr zu White hier:
http://merdist.com/wp/2017/11/30/the-roscoe-white-overlays/
here is also a link between Lankford and Roscoe White. In his capacity at the security office, Lankford provided verification of employment at Convair for White on his 1963 application with the Dallas Police Department. White had been employed at Convair from 8 May 1956 to 28 July 1956, and was eligible for rehire – implying a positive recommendation. For unknown reasons, White did not list this employment in his application; rather, the DPD investigator got the information from White's stepfather, and contacted Lankford directly for the verification.

It is interesting that Robert Oswald was employed at Convair during this period in 1956 as well, suggesting the possibility that Robert and Lankford may have known each other long before their interactions of 1963. Also, although of course Convair was one of the largest employers in Fort Worth at the time, it is at least possible that Roscoe White and Robert knew each other then also. Further, there is some overlap between White's period of employment and Lee Harvey Oswald's presence in Fort Worth prior to his Marine Corps enlistment. Is it possible that all four – Lankford, Roscoe White, Robert Oswald and LHO – knew each other in 1956?
https://jfkcountercoup.blogspot.com/2011/11/rufus-taylor-dallas-oni-sa-j-mason.html
Wie hoch ist die wahrscheinlicheit, dass es sich bei diesen Verbindungen um reine Zufälle handelte?
Man darf auch nicht nicht vergessen, dass LHO auch mit anderen Firmen zu tun hatte, die nicht nur eng mit dem Militär und den Geheimdiensten zusammenarbeiteten, sondern auch in Operationen gegen Kuba mit Verbindungen zu David Ferrie verstrickt waren.
https://jfkcountercoup.blogspot.com/2019/04/the-collins-radio-connections-to.html
melden